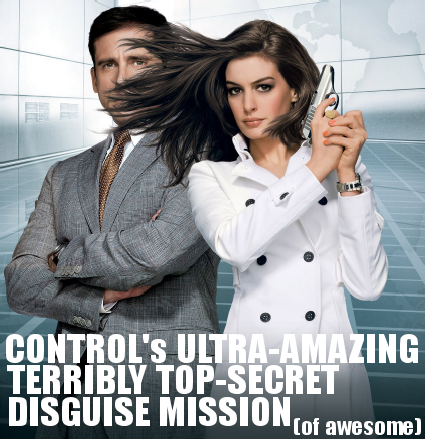 You have been selected to partake in CONTROL's latest mission to rid the world of evil and... not-niceness.
Before you read any further, please take note of the fact that this? Is
not
your grandparents' comment meme. This is a completely new breed. There will be some rules that
may
frighten you - but you have no choice but to accept them along with your mission (and when you click to leave a comment, of course).
Just bear in mind: It's for the greater good.
DA RULES:
1. No personal journals may leave comments. If it happens, KAOS will find out who you really are. And that's not our problem. If you wish to leave a comment and participate further in this Amazing Mission of
Awesomeness
, it must be from the journal of one of your pups.
2. Speaking of pups: Any which one may reply. It doesn't matter to us. We just want to see if you can handle the pressure of disguising yourself for long periods of time.
3. There may be people who look just like you. Don't cause a fuss. They don't
have
to be double agents. Just try to go along with it. Expect the unexpected.
4. If you need to make an OOC comment, please do so with the appropriate OOC-cloaking parentheses. Tiny font doesn't hurt, too. Again, this is for
your
safety. KAOS is tricky sometimes. You never know when they're watching.
5. All sorts of formats are welcome. Be creative. It throws KAOS off.
6. When the 5000th comment is reached, pat yourself on the back for a job well done. The mission is over. There may or may not be prizes. We've got to talk things over with the jerks in charge of our budget.
If you have any questions, please feel free to contact Field Agent 99 (AIM: Miss Lea Bloom). She'll be the one in charge of assisting new agents on this mission.
This message will self-destruct in ten seconds.
- The ChiefActive Agents:
Day One:
hisninetynine
-- Agent 99
getin_thepool
-- Damon Gant
cutieandroid
-- Honey Kisaragi
bythatmuch
-- Maxwell Smart
smartest86
-- Maxwell Smart
mitsumeteiteyo
-- Usagi Kou
aintbothered
-- Donna Noble
superteaboy
-- Ianto Jones
tea_andcravats
-- Miles Edgeworth
worstpiesever
-- Nellie Lovett
haveasweetie
-- Jonas Fogg
trillian_astra
-- Tricia McMillan
thephoenixsings
-- Phoenix
victoryandsin
-- Winslow Leach
amaraiswhack
-- Haruka Tenoh
my_minute
-- Ned
shadow_i_hide
-- The Phantom
prince_herbert
-- Prince Herbert
cursedmercy
-- Christine Daaé
overdue_dream
-- Lucy Harris
savannah_nately
-- Savannah Nately
zis_is_gayos
-- Ludwig von Siegfried
snakes_ftl
-- Indiana Jones
ich_bin_carsten
-- Carsten Dobler
snowywinters
-- Victoria Winters
wonkaliciousone
-- Willy Wonka
innocentdemand
-- Prince Demando
sir_launcelot
-- Sir Lancelot
teeveepwnzu
-- Mike Teevee
wintr_solstice
-- Faust Solstice
airbending_ftw
-- Aang
fey_mysticism
-- Maya Fey
4gr8_justice
-- Phoenix Wright
zydrateaddict
-- Amber Sweet
haaaveyoumetme
-- Barney Stinson
doctor_martha
-- Martha Jones
killyouquick
-- Miho
atashikirei
-- Kuchisake-onna
gunshotdarkly
-- Spike Spiegel
hardluckfemme
-- Faye Valentine
chasethemorning
-- Blind Mag
deltanudaughter
-- Elle Woods
evilesme
-- Esmé Squalor
welldontblameme
-- Miguel
iblame_you
-- Tulio
jokersharlequin
-- Harley Quinn
doomsday_girl
-- Rose Tyler
topaz_dazzle
--
Edward Cullen
pimpin_bender
-- Bender B. Rodriguez
DAY ONE - COMPLETE.
Day Two:
captainflygirl
-- Kara Thrace
i_am_your_crime
-- Bunny
occultclassic
-- Ini Miney
gibberishexpert
-- Milo Thatch
i_turnmyhead
-- Mary Phagan
ash_ketchum_all
-- Ash Ketchum
justly_proud
-- Judge Claude Frollo
meant4hvnslight
-- Quasimodo
yukiusagi_tsuki
-- Yukito Tsukishiro/Yue
pink_cblossoms
-- Sakura Kinomoto
(Anonymous)
-- IS LEGION. (Real funny, guys.)
rubthelamp
-- Genie
moonyjohnlupin
-- Remus Lupin
bewbsoflaw
-- Mia Fey
nowperfection
-- Manfred von Karma
holymurderer
-- Gabriel Van Helsing
outafter_dark
-- Barnabas Collins
sweeterthan16
-- Shilo Wallace
not_scripted
-- Mark Cohen
DAY TWO - COMPLETE.
Day Three:
frikkensweet
-- Napoleon Dynamite
1hellofalover
-- Frank N' Furter
doctorcosmo
-- Dr. Cosmo McKinley
amajorhero
-- Brad Majors
sixtysecondlife
-- Ned
controlcutie99
-- Agent 99
legendaryswan
-- Swan
im_indespair
-- Itoshiki Nozomu
neds_dog
-- Digby
DAY THREE - COMPLETE.
mood:
excited